Profile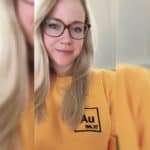 Rebecca Walker
About Me:

I am a Chemistry Lecturer at the University of Aberdeen, and I'm from Aberdeen! 👩‍🔬 I am a 'cat mom' to Raja and Raven 🐱🐱 When I'm not in the lab or teaching you'll find me at the theatre, singing, listening to true crime podcasts or binge-watching sci-fi shows or anime.

My pronouns are:

She/Her/Hers

My Work:

I am a Chemistry researcher in the field of 'Liquid Crystals', I make new molecules in the lab and investigate how changing different parts of their structure affects their ability to be a 'liquid crystal' and at which temperatures.

Read more

A 'liquid crystal' is a phase of matter between 'solid' and 'liquid' – it can flow like a liquid, but is a bit more ordered (like a solid crystal). You might be familiar with LCD displays (like your TV or mobile phone screen) – the 'LC' stands for 'liquid crystal', and each pixel on the screen can be switched 'on' or 'off' by moving the 'liquid crystal' using electricity.

To make faster, more energy-efficient displays, we need to understand the basics of new types of 'liquid crystal' – why and how they will move, how strong the electric field needs to be to move them, what temperature do they need to be at… just to name a few questions! To do this, 'liquid crystal chemists' – like me! – need to make them in the lab and study these basic properties, then we team up with physicists and engineers to see if we can use them in devices!

My Typical Day:

I usually get woken up by my cats demanding breakfast at around 7 am, and usually start work at the University at 9/9.30 am. Depending on my teaching schedule for the day, I might be giving lectures (these last ~1 hour) or demonstrating in teaching laboratories (these last ~3 hours!). If I'm not teaching, I will use my time for research activities. This could be doing experiments in the lab, looking at the results of these experiments or preparing to present the data – making a powerpoint presentation, poster or writing an article!

What I'd do with the prize money:

I would use the prize money to organise a 'Liquid Crystal' roadshow, and show local primary and secondary schools how liquid crystals are everywhere – not just in LCD screens, but also in soaps and detergents, and in the natural world (eg. in some beetle shells)!

My CV

Education:

I went to Oldmachar Academy in Aberdeen (2004-2010), then did my two degrees at the University of Aberdeen (2010-2015, 2015-2019).

Qualifications:

Standard Grade (now National 5): Chemistry, Physics, Maths, English, History, German.

Higher: Chemistry, Physics, Maths, English, History, Music

Advanced Higher: Chemistry, Physics, Music

Master of Chemistry (MChem) degree from the University of Aberdeen (2015)

Doctor of Philosophy in Chemistry (PhD) degree from the University of Aberdeen (2019)

Work History:

My part-time job as a student was Front of House staff (usher) at His Majesty's Theatre, Aberdeen – I checked tickets, sold ice-cream and worked in the bar, and the main perk of the job was seeing lots of theatre shows for free!

My 'job' after university was my PhD – I was a full-time research student working on the chemistry of Liquid Crystals.

After my PhD, I had two 'post-doctoral' jobs working in research teams designing molecules which could be used in new drugs to treat diabetes (2018-2020) and Alzheimer's disease (2020).

At the end of 2020, I became a teaching-only Lecturer at the University of Aberdeen Chemistry department, working full-time giving lectures and teaching in laboratory classes.

Current Job:

Lecturer in Chemistry @ University of Aberdeen

Employer:

My Interview

How would you describe yourself in 3 words?

Cat-loving chemistry enthusiast

What did you want to be after you left school?

I wanted to be a Doctor (the medical kind!), but despite loving medical dramas on TV I knew I was far too squeamish to actually do that in real life!

Were you ever in trouble at school?

Only for talking too much!

If you weren't doing this job, what would you choose instead?

I would love to be a musical theatre performer!

Who is your favourite singer or band?

My go-to answer for this is Queen, but in reality it's probably the ultra-cheesy Steps!

What's your favourite food?

Macaroni Cheese

If you had 3 wishes for yourself what would they be? - be honest!

1. To be fluent in all languages of the world, including cat so I could chat to my fur babies! 2. To become an amazing singer. 3. Unlimited funds for travel around the world.

Tell us a joke.

How do you organise a party in space? You planet.
---
---
---